Stoke's second annual Denton Startup Crawl on Thursday, November 1st kicked off at Kubos, where co-founder, Marshall Culpepper, talked about the history and workings of the satellite software startup. Attendees didn't get to see a physical satellite, but did learn about the launch process and the software behind it while in their space at the Railyard.
From the Future (FTF) opened the doors to their basement office in the Denton National Bank Building. As CEO Mike Christian states, "[FTF has] been creating virtual worlds since the 90's and haven't stopped since." The group learned how virtual reality plays a role in entertainment, rehabilitation, therapy and training.
At one of the offices in the Texas Building, GSATi's CEO and co-founder, Jason Bodor, welcomed the group into the foyer of their second story space. With a view of the courthouse from the windows, attendees listened to Bodor as he talked about how GSATi began, involvement of friends and family, and their growth as a company.
Pausing at 940's for a water break and quick cocktail tasting, crawl participants learned about the history of the spot as Banter, where the idea of a coworking space in Denton first manifested at two conference-sized tables. Some of the original members of the first coworking group from Banter are currently at Stoke.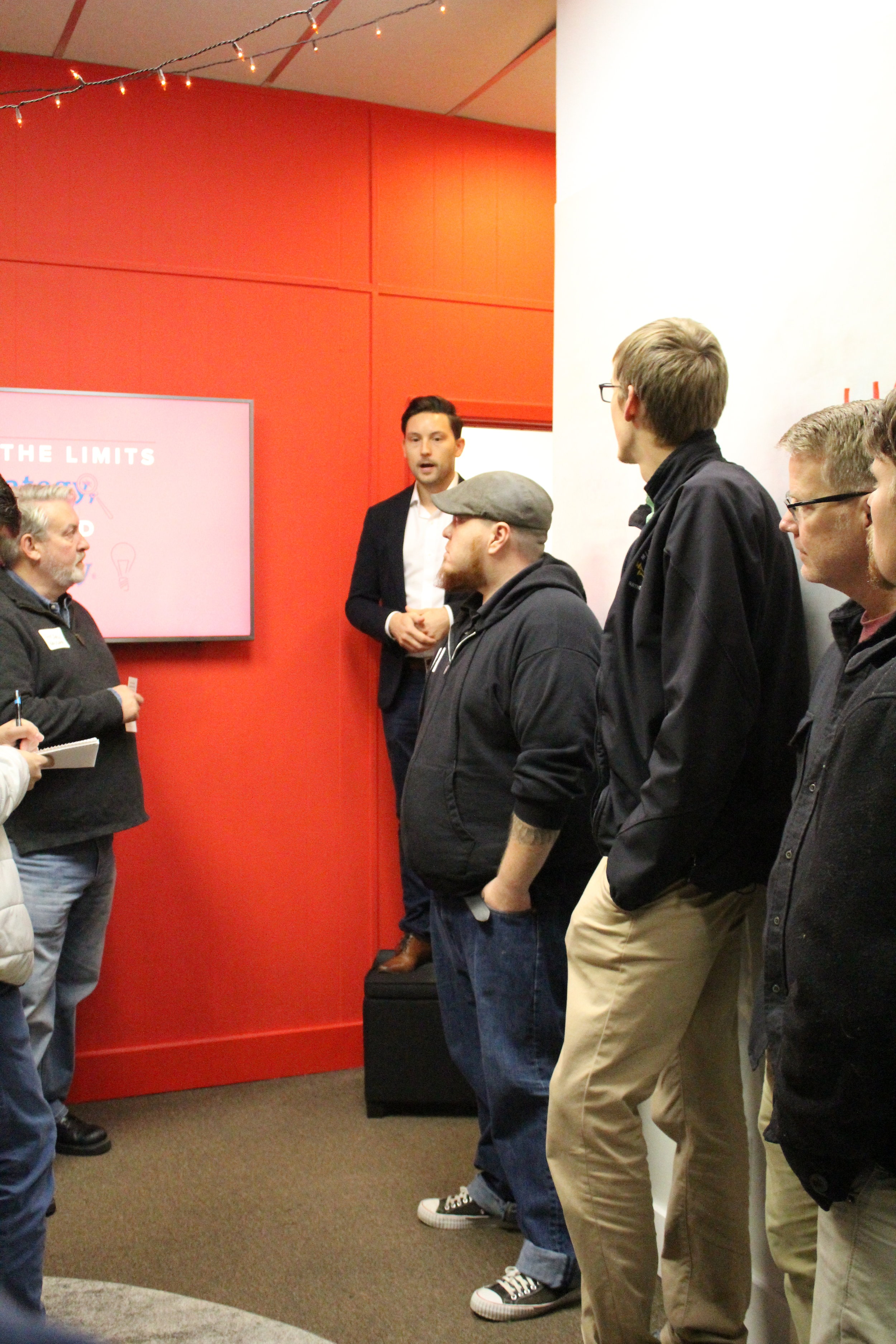 Square 205's creative director and CEO, Paul Echols, took crawl attendees on a brief tour around their office space and gave history about the name of the creative marketing agency. Square 205 was previously in a couple of different locations on the square, including sharing space with GSATi, but have found their home on Hickory St.
The last crawl stop before heading back to Stoke was at ReadyRosie, a company that develops educational tools for families and communities. In their inviting office space, the group sat for a drink and some rest and learned from ReadyRosie CTO, Step Aument, about how ReadyRosie has impacted families and communities across the nation since their start.
Back at Stoke, Denton Startup Night's panel discussion focused around the question of "Why Denton?" Panelists talked about the draw and appeal that the community has to offer for startups and entrepreneurs, as well as the quality of life in Denton that is unique to the town. Questions from the audience included how to acquire talent from the Denton community and how to keep employees engaged and invested in the company.
Panelists included (from left to right in photo below):
Mark Cieri - QV Partners CEO/Denton Angel

Joy Kirven - Zarcode CEO

Step Aument - ReadyRosie CTO

Aaron Powell - Bunch Bikes Owner

Paul Echols - Square 205 Creative Director + CEO

Marshall Culpepper - Kubos Cofounder and CEO, Hickory & Rail Ventures Cofounder

Jason Bodor - GSATi Cofounder and CEO
Since 2016, Stoke has been working to encourage and promote startups, entrepreneurs, small business owners and other professionals with educational programs and events. Thank you to all participants, attendees, panelists and supporters of the Denton Startup Crawl and Night! We hope to see you for the next one.